Money Transfer from India to Singapore
Pay your tuition fees
Pay your university fees easily from your Indian bank account

Send money to an International Bank
Send money to an International Bank

Settle your Rent
Now pay rent to your landlord directly from your account in India
Why Choose Remigos for International Money Transfer?

Save Money With Best Rates
Get 5X superior rates than the market and save money.

No Paperwork, Fully Digital
No need to print out forms or visit banks

Whether you are sending $100 or $50,000, get in in just 24 hours.

No more gimmicks or getting fooled by banks. Pay what you see.

Trusted by 1000s. Regulated by RBI. Guaranteed by us.

Super easy to use platform and 24*7 customers support available.
Now Send Money From India to UK From Your Smartphone!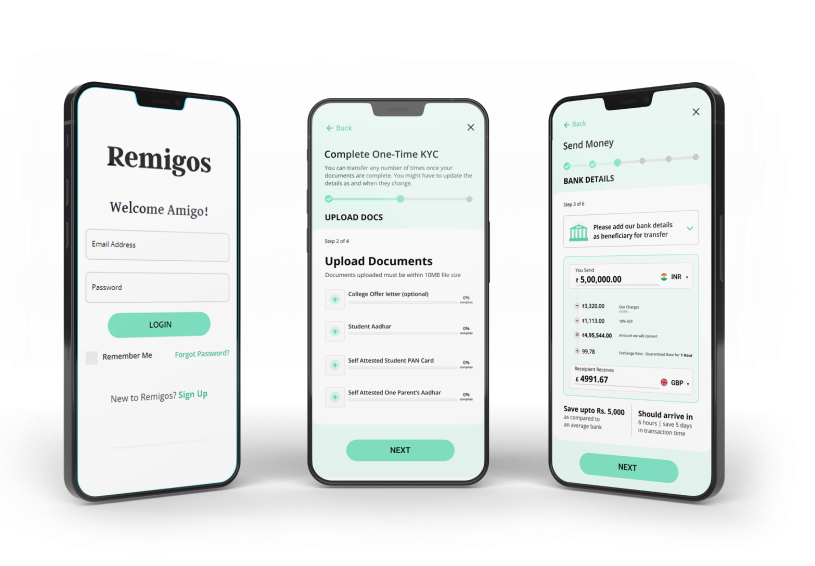 Sign up online, or on our app with an email address.

Verify your Identity
We'd just need your PAN card, Passport, Visa and College offer letter to verify your identity.

Fill in the details of your recipient's bank account and pay using bank transfer.

Easily track your transfer on our support. Get real-time updates Whatsapp.
Enjoy Safe and secure Money Transfer with Remigos

RBI Regulated
We are RBI regulated and supported by SBM bank to provide safe and secure money transfer services.

Audited Regularly
Your money is safe with us. We are regularly audited by RBI to safeguard your money.

Covered in Media
It's great to get recognized by London Business School, Indian Startup News and many more for the amazing work we are doing.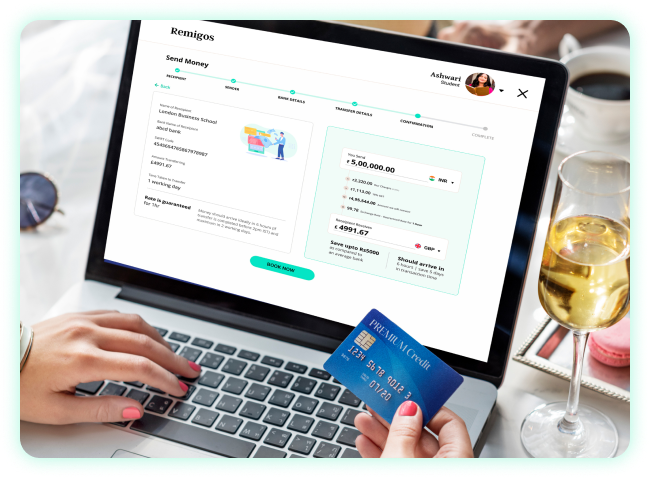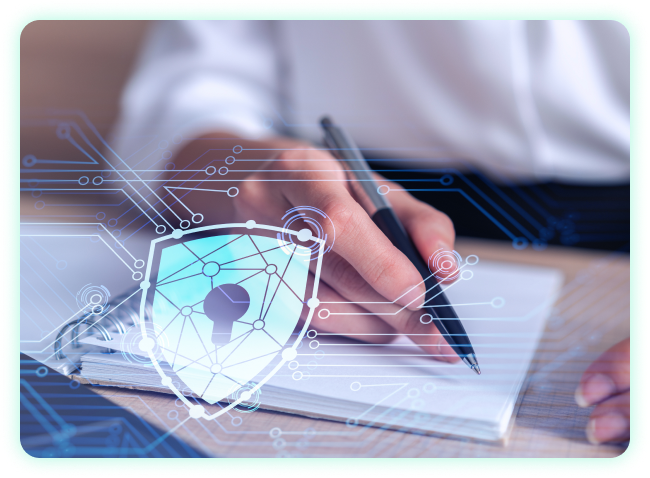 Extra-Secure Transactions
At Remigos, no one ever touches your money. You pay it directly to bank and its on the way to its destination.

Data Protection
Your personal data is always encrypted. We are transparent in how we collect and use your information to maintain complete privacy.

Trusted by Indians
Our international money transfer service is used and trusted by 1000s of Indians across the world.
Get The Best International Money Transfer Online Rates with Remigos



1GBP = 95.39 INR
mid-market rate (as on 20th June 2020)
Money Transfer from India to Singapore – At Your Fingertips with Remigos!
Tired of waiting in long queues and paying exorbitant fees to send money abroad? Try Remigos to transfer funds from the comfort of your home and save time, money and hassle!
Online Money Transfer Process
Send Money from Your Smartphone
Transaction Completed in 24 Business Hours
Money Transfer from India to Singapore At Lowest Rates
Transparent Pricing and Zero Hidden Fees
100% Safe and Secure Money Transfer to Singapore Via Remigos – Complete Process
Money transfer to Singapore can be a complex process with various fees attached. However, Remigos simplifies it, making it as easy as transferring money locally. If you're making your first money transfer from India to Singapore with Remigos, follow the steps below:
Step 1: Register for Free
To use our money transfer service, you must first register for an account. Simply visit our website, click on "Register," and enter a few details to create your account. The entire process takes only a minute or less. 
Step 2: Verify Your Identity
Verification is a crucial step in money transfer from India to Singapore. After creating your account, you must complete the KYC process to verify your identity. To do so, simply scan and submit a copy of your passport, visa, PAN card, and college offer letter. Once completed, you are good to go. 
Step 3: Add Recipient's Bank Details
For a money transfer from India to Singapore, you must provide the recipient's bank details, including the bank name, recipient's name and address, account number, SWIFT code, IBAN code, and other necessary information.
Step 4: Add Your Bank Details
Submitting your bank details is a necessary step when sending money through Remigos. In order to initiate a money transfer to Singapore, you need to add your bank details as well. 
Step 5: Pay For Your Transfer
Now, all you need to do is enter the transfer amount and make the payment from your bank account. Remigos will deduct the amount from your account and credit it to the recipient's account within 24 hours. You can track the money transfer to Singapore in real time while waiting for it to be completed.
Money Transfer from India to Singapore with Remigos
Singapore is a modern, youthful nation that serves as a global business hub. It is a significant Asian business centre, attracting many Indian students who aspire to attend prestigious universities such as NUS and NTU. This increases the need for a reliable money transfer service to help parents easily pay tuition fees. 
If you are looking for a money transfer from India to Singapore for educational expenses, Remigos has got you covered! Our fast, digital and affordable international money transfer services beat bank transfers and help you save time, money, and hassle. 
Remigos is your one-stop online platform for hassle-free money transfer from India to Singapore in just a few clicks. Our service is not only affordable but also incredibly fast and highly secure, ensuring your peace of mind throughout the entire process.
Despite being a newcomer in the Fintech industry, Remigos surpasses the competition with its exceptional exchange rates and unmatched convenience for money transfer to Singapore.
At Remigos, we prioritize convenience and efficiency at a much lower cost compared to other methods of sending funds from India to Singapore. By using our service, you can save money through our low transfer fees and competitive exchange rates, which means you can send more money with each transaction.
Our user-friendly website is designed to make the transfer process smooth and effortless for you. We also offer a free currency conversion calculator, which can be very useful in avoiding any unforeseen charges for money transfer to Singapore.
Want to try our quick, economical and convenient money transfer service? Register Now!
The Remigos Advantage Over Banks & Other Forex Vendors
Fully Online Remittance Process
Remigos simplifies the money transfer process by providing a fully digital remittance experience that is fast and effortless. Our platform features live exchange rates and offers a convenient way for money transfer from India to Singapore anytime you desire. There is no need to visit banks or search for other vendors when you have Remigos right at your fingertips. 
Fastest Transfer Processing Times
If you're looking for an easy, paperless, and secure way to money transfer to Singapore, Remigos is the optimal solution. Whether you need to pay university tuition fees or for any other reason, Remigos guarantees that your funds will reach their intended destination within 24 hours.
Banks and other money transfer services are often criticized for their high transfer fees, but Remigos customers benefit from minimal transfer charges plus GST when using the platform for money transfer to Singapore. Our transparent pricing policy ensures that we offer the best prices, making Remigos a cost-effective choice for international money transfers. 
Remigos differentiates itself from banks and other forex vendors by directly partnering with banks to process your transfer without relying on third parties. This guarantees faster and more efficient processing of your transaction. We are also regulated by the RBI and use the latest encryption technology to ensure complete security for money transfer to Singapore. 
At Remigos, we offer unbeatable exchange rates that are convenient, transparent, and provide excellent value for money. Our homepage features live Forex rates that are available 24/7 for you to check before making a transfer. We never raise or adjust exchange rates for profit, ensuring that our customers receive fair and competitive rates for money transfer from India to Singapore. 
Frequently asked questions
Hear what others have said
Moving to London involved so many aspects to be looked into, that it has been a huge relief working with Remigos. They were transparent in their working, forthcoming in their approach & put me at ease with their professionalism. I could trust them with the entire process being reliable & with the best rates for me, saving me the trouble of having to compare different options available for forex remittance. I have gladly recommended them to fellow students & peers moving & living abroad!
Asawari
Student, London School of Economics
the SIM Card Service... experience was seamless and convenient. .... SIM I ordered arrived at my doorstep in my home country even before I came to the UK. It was as easy as One, Two, Three !!
Vardhman Jhaveri
London Business School
As a student, it wasn't easy for me to find the right platform for such transactions apart from the traditional methods using banks (which usually takes weeks) but the process with Remigos was swift, easy and hassle free.
Prerana Haragadde Surendra
Monash University, Australia
I had a splendid experience with Remigos who helped facilitate a fund transfer from India to the UK. Special shout out to the team holding my parents' hands throghout. The transaction went through as a breeze. I would definitely recommend Remigos and good luck to their team!
Shankar
Student, London Business School
Remigos was the best remittance experience - seamless, quick, and at affordable fees!
Sahil
Student, London Business School
Remigos has one of the best rates and the team is trustworthy is always ready to help you as and when you need! After the initial documentation process, it was super easy, quick and cheap to transfer money. I could also transfer larger amounts without any problem. Would highly recommend!
Anmol Manocha
Student, London Business School
Other Countries Where You can Send Money